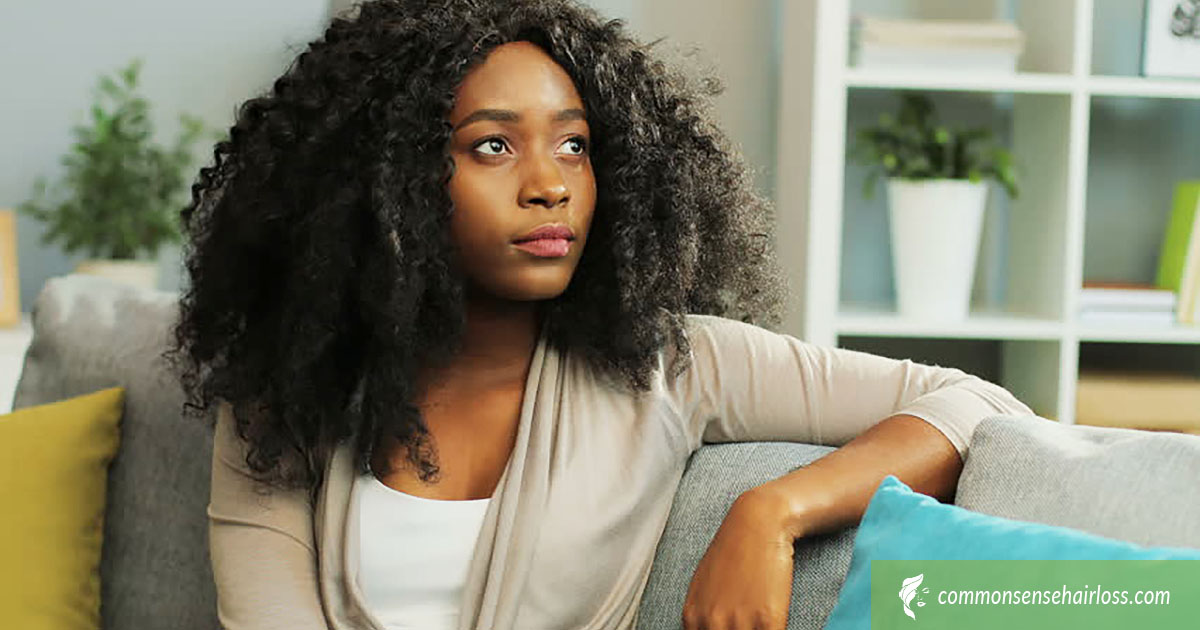 Over more than 40 years of work as a hair loss specialist, female hair loss has been a distressing condition for many clients. Surprisingly, this seems to be less true for male clients. Several years ago, a study concluded that a female makes an appointment to see a hair loss specialist when they have 50% of hair left.
Instead of discussing all the possible diagnoses and treatment options available for hair loss; that you could fine elsewhere, I will briefly discuss the most common conditions and approach if a client came to me with hair loss. While the information below is geared towards female hair loss, it also applies to males experiencing hair loss.
What Causes Female Hair Loss?
The most common causes of female hair loss I see with clients is androgenetic alopecia (female pattern hair loss), followed by telogen effluvium, alopecia areata and lichen planus in decreasing order. This loss may be accelerated by lack of nutrients and iron deficiency. Medical conditions such thyroid deficiency can also cause hair loss.
Female Pattern Hair Loss
Clients with androgenetic alopecia (female pattern hair loss) historically notice increasing hair shedding when shampooing or brushing their hair. Their updos such as a bun or ponytail has become less full and progressive thinning is noticed, especially over the crown. While it is normal to lose hair daily, however most females begin to realize fairly quickly that the hair fall has increased and is not normal for them. If hair loss is caught in the early stages, it can sometimes be reversed with hair appearing thicker after 2-3 years of treatment. Conversely, if the hair loss is significant, the most to expect is to slow down further hair loss because reversing the loss is much more difficult at this stage.
Hair Loss Tests
Before any doctor or dermatologist can recommend treatment, they must first examine your scalp in order to find out why you are losing your hair. Some of the tests that may be required are:
1. Blood tests to exclude hormonal imbalances, nutritional, anemia or iron deficiency.
2. In some cases, before starting therapy, a biopsy of the scalp is recommended as it is important to exclude other causes of hair loss which would be treated differently.
Female Pattern Hair Loss Treatment
For less severe hair loss, your doctor may prescribe topical therapy, but if significant and rapid loss is detected, tablets may be recommended. It is best to see your dermatologist or doctor early on when you notice an increase in hair loss.
Telogen Effluvium
Telogen effluvium is the hair loss which occurs after stress. This could be after an illness, pregnancy, grief, dramatic weight loss, etc. It can also occur without any of these triggers. This condition requires a biopsy for diagnose. This condition can occasionally coincide with androgenetic alopecia (female pattern hair loss).
Causes Of Bald Spots
Alopecia areata generally does not require a biopsy and is the simplest to diagnose. Oftentimes, bald patches appear on the scalp rather suddenly. The reversal of this condition can be simple if the hair loss is limited to a few areas. If several, quickly enlarging bald areas are presented, management becomes more difficult and some may prefer wearing a wig or a custom hair system. In general, alopecia areata is probably the most unpredictable.
Scarring Hair Loss Conditions
Lichen planus is the most common condition that causes scarring hair loss. Clients sometimes notice crusting of the scalp, bald areas, gradual thinning over the crown or frontal scalp or itching. Your doctor may request a biopsy in order to confirm the diagnosis and treatment. This process usually occurs immediately because without treatment, scarring and irreversible hair loss will occur. The idea is the stop the inflammation as soon as possible to minimize any further loss.
It is never a good idea to scratch your scalp with your fingernails as it will cause your scalp to become more irritated and can cause bleeding. One of our favorite products to alleviate itching is Scalp Ease. It has natural healing properties that will reduce itching, dryness and inflammation of the scalp.
In Conclusion
Remember, if you are experiencing hair loss, make time to see your doctor or dermatologist immediately to diagnose and treat it now. Some conditions such as telogen effluvium, alopecia areata and androgenic alopecia are all potentially reversible with treatment. With lichen planus, early diagnosis is essentially to avoid permanent hair loss. If you have a hair loss problem, please call our hair loss specialist at (619) 820-0290 or schedule a free complementary consultation online.