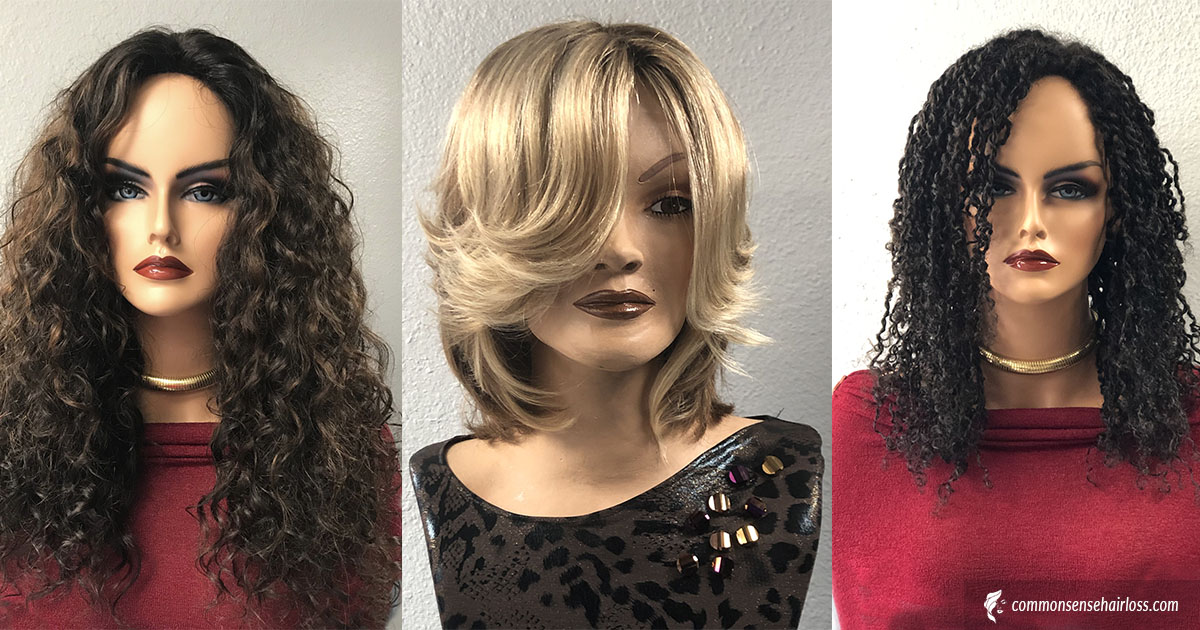 Today's modern wigs for women's hair loss have come a long way. But slapstick comedies poking at bad quality wigs gave wigs a bad name. However, now all that has changed. Wigs have become a very popular beauty product. And more than ever the ideal hair solution for women suffering from hair loss.
Many women however, can still feel apprehensive about wearing wigs. They're worried that these may not look or feel real. That they'll look unnatural and easily fall off. Or, be really uncomfortable to wear. But all these couldn't be further from the truth, especially with today's modern wigs for women hair loss.
Today, women's wigs are more beautiful, comfortable and realistic looking than ever before. And there are plenty of reasons why you should consider them as your hair loss solution:
1. They effectively disguise hair thinning and hair loss, and boost confidence
Losing a lot of hair can be a particularly traumatic experience, especially for women. Hair plays such a significant role in building up a woman's identity and self-confidence. So when a woman starts to lose that hair, it's like they're losing a part of themselves as well.
Human hair wigs give women an effective hair replacement solution that lets them feel like themselves again. They can cover up any bald or thinning spots. Plus, they also give women a whole new look that they can choose to suit them perfectly.
This is why wigs are not just ideal for women who suffer from conditions like alopecia areata. They're a great option for any woman who wants a boost in confidence by sporting a great new do with their wig.
2. Wigs protect your natural hair and allow it to grow
Too much curling, coloring, straightening, and blow drying takes a toll on your natural hair With all of the damaging things we put our hair through, it's inevitable for it to become brittle and fall out.
Wearing a wig can help your hair to recover from this damage and grow back. Also, wigs can protect your hair from bad or extreme weather and pollutants. Just make sure you wear one that has a breathable cap to give your scalp and hair room to breathe.
3. Modern wigs for women's hair loss let you change your style whenever you want
Speaking of hairdos, wigs allow you to style your hair in just about any way you want, whenever you want. This is especially true with real hair wigs. Many celebrities are well known for wearing wigs for this exact purpose. By wearing wigs they can sport a uniquely styled and colored 'do in one event. And instantly have a totally different one in another. Like these celebrities, you can choose from a myriad of styles, cuts and colors.
So no matter how you feel like wearing your hair on any given day, you can achieve it without inflicting any damage whatsoever to your natural hair. Blonde with a perm? A daring jet black bob? Fiery redhead? You can get every look effortlessly with a wig!
4. Modern wigs for women's hair loss can save you tons of time
If you're fond of styling your hair but take forever to do so, you'll love wearing a wig. All you need to do to get the style you want is to pick the right wig and go! You never have to go through a day of bed head hair, bad hair, or bad hairstyling ever again. Just put your wig on and you'll look just as fabulous as you did the day before!
And if you're suffering from severe hair loss, wigs can also save you plenty of time compared to other hair loss solutions. There are no extra treatments, waiting times, clips or combs necessary. Simply put the wig in place and you instantly have a full head of hair in the style that you want!
If you're interested in getting a custom-made wig. Or want to find a high quality ready-made wig you can feel absolutely comfortable in, get in touch with us today. We always sit down with our clients first to talk about their exact needs and preferences. Give us a call now at (619) 820-0290 to schedule your complementary consultation.
You may also enjoy reading: Caring For Your Wigs