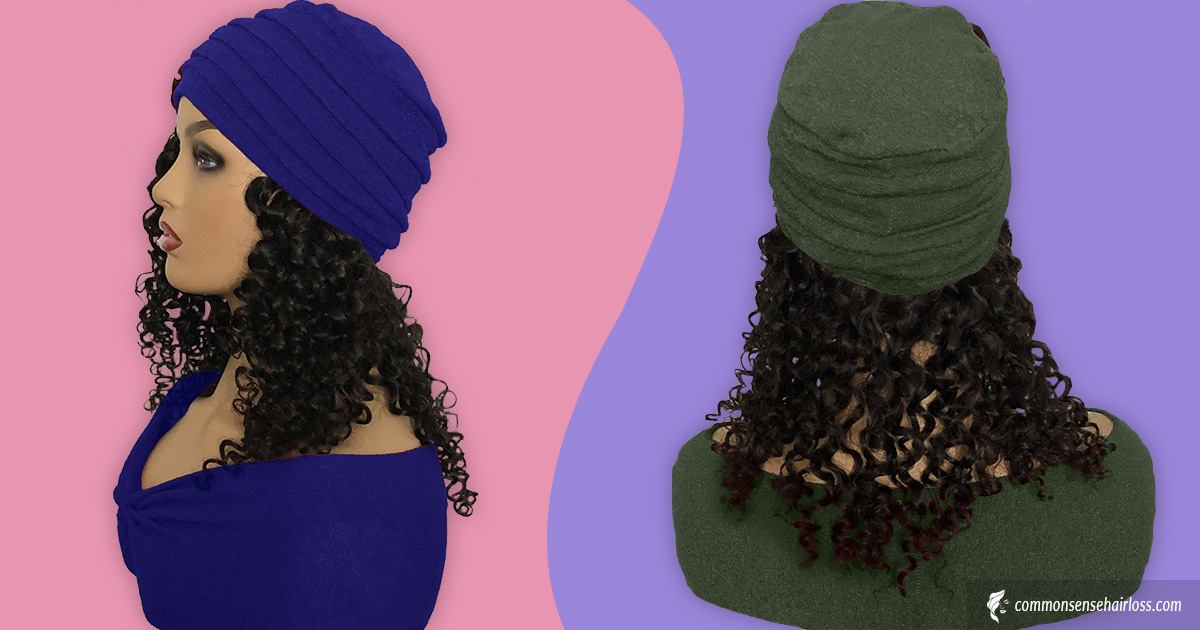 Louticia Grier's turbans for hair loss are ideal for covering thinning hair related to chemo treatment and non-medical conditions. They are the most popular hair accessory this year. And because they are made with bamboo stretch fabric inside, they can be worn every day. Cancer patients especially like these turbans for hair loss because they are so soft and comfortable on their scalp.
These turbans are embellished with fabric flowers and other ornaments. Of course, you can have yours made with or without embellishments. Either way, you'll feel like a Jetsetter from the '50s with a chic flare when wearing it.
So, let's check out some of our favorite turban styles.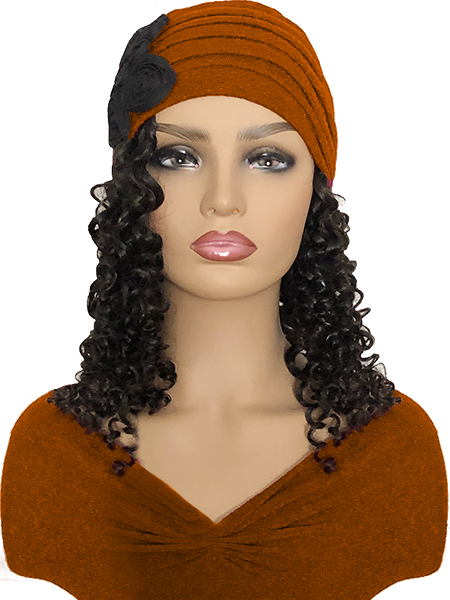 Turbans For Hair Loss With Hair Loose
If you plan on leaving your hair out, while just about any style looks good, wavy is a great look. However, if you don't have naturally wavy hair, here's what you can do.
After shampooing, work a little gel into the ends of your hair. Then, let your hair dry naturally. But use just a sparing amount of gel so that it doesn't restrict your hair's movement. And as a finishing touch, add a few drops of oil to your hair. In addition to conditioning your ends, it'll also add a little extra shine.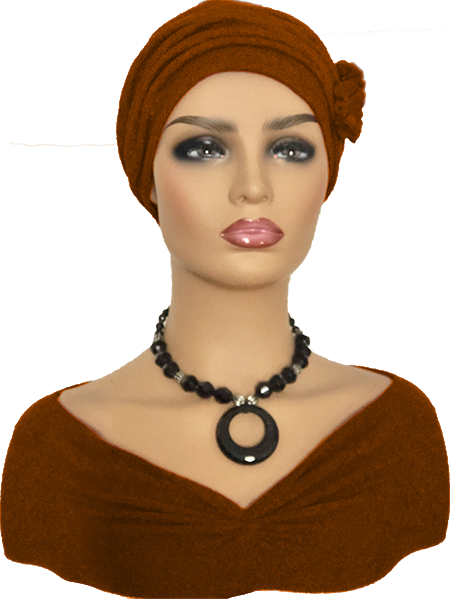 Turbans For Hair Loss With All Your Hair In
Wearing a stylish turban is a perfect solution to a bad hair day. You can hide all your hair under the turban and still look super fantastic. By the way, this is also a great trick for thinning hair.
Running late and don't have time to deal with your hair? No worries, just wear one of Louticia's turbans for hair loss and you'll still look put together. Also, to avoid undesired lumps under the turban, wrap your hair around your head or tie it in a spiral bun. Of course, both techniques depends on the length of your hair. So, choose the option that's best for your situation. For a guaranteed wow effect, try out bright lipstick too!

So, where would you wear these stylishly chic turbans for hair loss? Actually, just about everywhere! They are great for any occasion, whether it's a video call, chemo treatment, or visiting during the holidays. And of course, for everyday wear. Our turbans are also available in children sizes. Available colors include berry, purple, black, sage, and rust. To get your turban for the holidays, call Louticia Grier at (619) 820-0290.
You may also enjoy reading: Best Hair Drying Towel Wrap