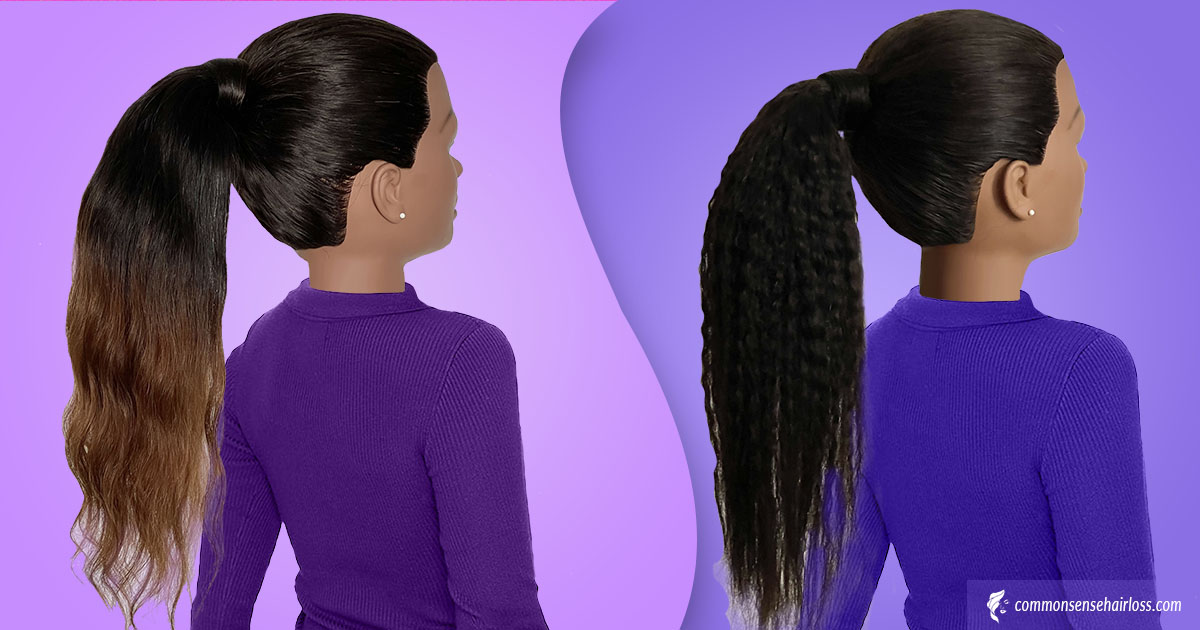 Ponytail hair extensions have been all the rage for several years now. However, they have become more exotic and elaborate. For instance, the beautiful floor-length ponytail hair extension worn by Beyonce is gorgeous!
If you're after a high, super glam pony, flip your head down to get your ponytail hair extensions high up. Be sure to eliminate bumps so that it's super smooth. Using ponytail hair extensions you can create an endless ponytail in a few minutes. And you won't have to wait years for your hair to grow out.
Of course, you can put your own signature spin on your style. Whether you're a fan of a super sleek pony, voluminous boho, or bone straight look.
The Darling Ponytail Hair Extensions
As a hairstylist and Master Wig Maker, ponytail hair extensions is one of my favorite hairpieces to make. It's also one of our most beloved hairstyles. Not only is it a polished hairstyle for work, but also for the gym. And you can look stylishly fabulous while sweating off that extra slice of cake.
While it's always been easy to execute, the ponytail is a growing trend taken to new heights. Even many celebs have kicked this style up a notch. It's not just an up-style for mid-week, but rather a great option when you're getting glammed up for the red carpet. And even other special occasions for us regular people.
Louticia Grier's MyPrettyTails
MyPrettyTails is a ponytail collection made by Louticia Grier. From kinky texture to ombre and blondes, you can have your choice of style you want. They're also available in 12 inches through 24 inches lengths. If you have a preference for hair type, she can make that happen also. For example, Chinese, Indian, Malaysian hair, and so many more.
The best thing is that you can have the hair thickness you've always wanted. Even better news. These ultra-chic ponytails are quick and easy to achieve. In fact, it should only take about two minutes to attach because they're already made for you!
So, there's no need to wait for your perfect ponytail. Give your hair lots of body through loose natural looking waves and max volume. 100% human hair makes the MyPrettyTails suitable for everyday wear and dating.
Braided
Knotless braids are so versatile. Use one braid to wrap around the rest of the braids for a relaxed ponytail look. Of course, braided ponytails look even better with longer hair. If you want this style, but don't have the length, we can make the ponytail hair extensions for you!
You can also turn these braids into a fishtail plait instead of the individual braid strands. Braids add an extra element to an already trendy hairstyle.
To see our beautiful ponytails in person, visit our Solana Beach hair salon.