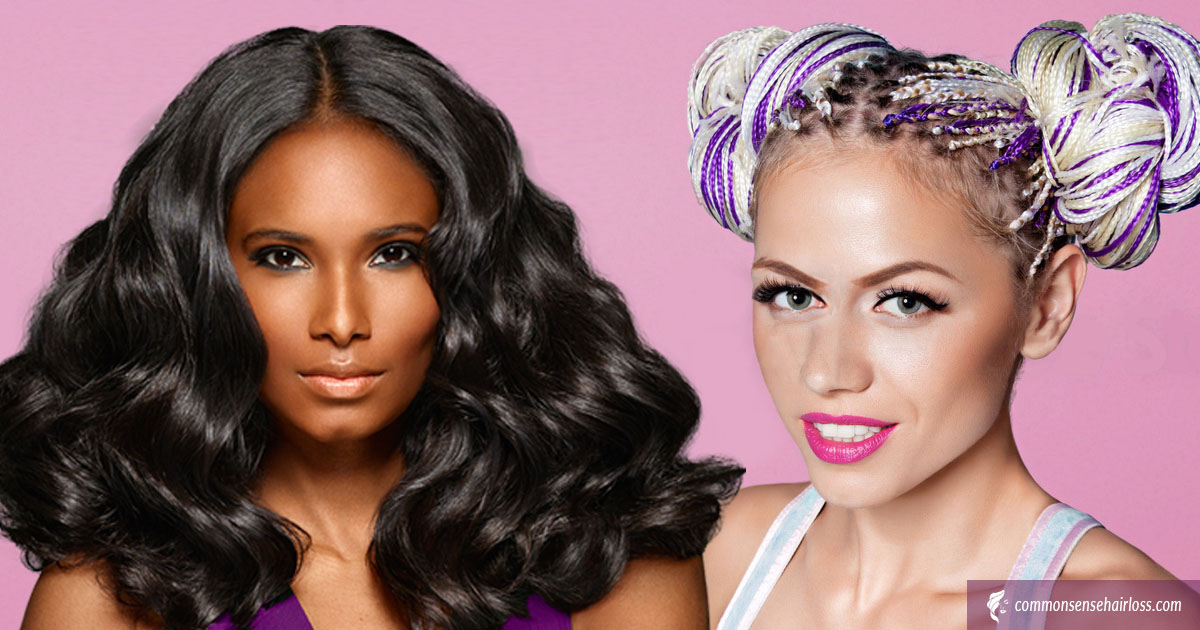 One of the most notable reasons for hair loss is getting chemical treatments before certain hairstyles. Of course, other factors contribute to hair loss like genetics, age, alopecia, and more. But getting a relaxer same day as you're getting braids, or having braids removed is so hard on your scalp. Not just your scalp, it stresses out your hair as well. In essence, it nearly defeats the purpose for getting the braids protective style in the first place.
Getting chemical treatments can make hair look fantastic. For example, relaxer, highlight, bleaching, etc. But there's a best time and process for all hair treatments. Not knowing which should come first can have dire consequences to your scalp and hair.
In this article, we'll discuss the do's and don'ts for getting chemical treatments before a hairstyle. And best time to get these treatments.
Let's get started!
Do's and Don'ts Of Getting Chemical Treatments Before Hairstyle
Do's
1. Go to a professional
Even though home relaxer kits are available, things may not go as plan. On the other hand, a professional has the means and products to rectify things if something goes awry. However, you should always do your research before just walking into a salon. After all, you want to make sure you're in good hands.
2. Schedule a consultation
Finding the ideal stylist is the first thing, but you should also have a consultation before you sit in the chair. Because you can ask any questions you like during a consult, you'll get a better idea of what you want. Not to mention the process and products that will be used.
3. Buy the products your stylist recommends
Of course, hair salons need to make money from their products. But don't assume that they're instructing you on best products to use just to make an extra buck. In essence, they're trying to do more than just save you time and money. Credible stylists only recommend products they feel will keep your hair in good condition until your next appointment.
If you're looking for hair care routine, we recommend Scalp Protection products. All products in this line were made by A Diva's Hidden Hair Manufacturer. These products will keep your scalp and hair nourished and moisturized.
5. Maintain a proper hair care regimen
Even with the best products in the world, you need to follow usage instructions. Otherwise, you may only receive half the benefits. Relaxing your hair does not make your hair care routine simpler. Although, the day to day styling of your hair will be easier. You're likely to make frequent trips back to the salon. Particularly people with shorter cuts like pixie so that the style lay correctly.
Don'ts
1. Color your hair prior to getting a relaxer
If you've recently colored your hair at home, it's imperative that you're honest with your stylist. Because the rule of thumb is you can color relaxed hair, but you can't relax colored hair. In fact, applying a relaxer on top of fresh colored hair is a recipe for disaster.
Undoubtedly, your stylist will tell you how long you should wait in between getting chemical treatments before a hairstyle. Another example is getting a relaxer before braids in preparation for a weave. Does you scalp ache just from me saying that? Think about it for a moment. That's actually 3 processes at one time. Obviously, you're want your edges nice and sleek. But if you're not leaving them out, then no reason to get a relaxer when you're already getting a weave? And your edges will be hidden due to the braids and the weave install.
2.Get a relaxer if your scalp is irritated
If your scalp is irritated, you should not get a relaxer or any other chemical treatment. While a relaxer should never be applied directly to your scalp, it's applied really closely. Thus, if you have a sensitive, itchy or irritated scalp, the relaxer should not be applied. Instead, wait 48 to 72 hours for the irritation to subside. And if the problem persists, consult your doctor.
3. Go from one extreme to another without consulting your stylist
Canceling your next relaxer appointment because you've decided to go natural is an important step. But there's a method to the madness. The line of distinction between your natural hair and your previously relaxed hair is extremely fragile. Therefore, your stylist will create a conditioning and strengthening regimen for your hair.
When going natural, it's likely that your hair will tangle more. As a result, your stylist can teach you how to comb your hair as it's growing out from the relaxer.
By following these simple recommended dos and don'ts, you can achieve flawless chemically treated hair every time. Although we talked mostly about relaxers, this article pertains to any type of hair chemical treatment.